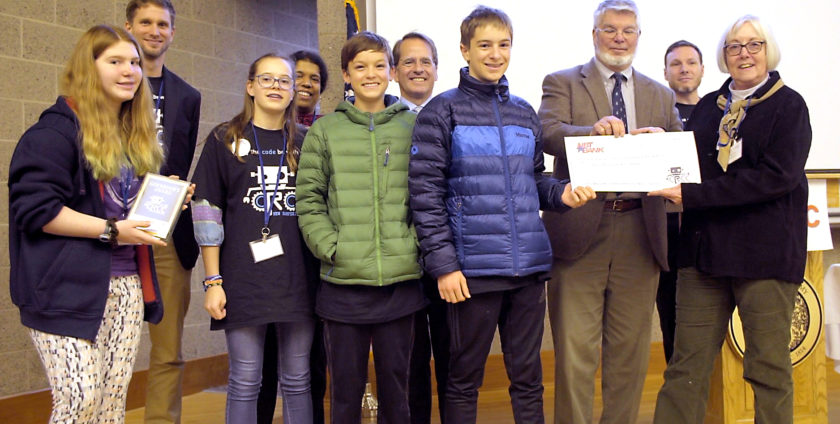 Derry, NH – Wednesday December 20th, 2017 – ISCEF Foundation with sponsors Intelitek, Oracle Academy and NBT Bank are excited to announce the winners of the nations first Cyber Robotics Coding Competition which took place in New Hampshire on December 19th at Pinkerton Academy.
The grand prize, a trophy with a $2000 grant for the school was awarded to the Lyme School.
This is the culminating event of 8 weeks of virtual competition where over 2500 students in middle and high school used CoderZ, a cloud based coding platform to compete in over 80 different and challenging robotics missions. In addition to prizes for inclusiveness, faculty participation and diversity, the top schools competed all afternoon at Pinkerton Academy for the best middle school, best high school and Governor's Award.
After reading a proclamation from Governor Chris Sununu, Commissioner of Education, Frank Edleblut, Director of STEM Education, David Benedetto, Ms. Melli Annamalai, Senior principal product manager at Oracle, Peter F. Mennis, V.P. of the NH Commercial Banking Division of NBT Bank and Ido Yerushalmi, Chairman of ISCEF handed out the Governor's Award to the Lyme School.
"This is so much fun" can be quoted and attributed to tens of the students, along with "what a fantastic event" from many of the parents and teachers.
"ISCEF and the NH DOE are proud to have launched this new event in the great state of New Hampshire," Said Frank Edelblut, commissioner of Education. "I can see the event is a success by seeing the number of students involved and the almost 200 students, teachers, parents and guests who were at the award ceremony."
Melli Annamalai from Oracle asked the participants an inspiring question, "Do you just want to be consumers of technology or do you want to be in the driver seat? Ask yourself what can I do to influence the direction of technology."
The following awards were presented:
Boot Camp Awards:
Faculty Participation Award 2nd Place – Weare Middle School
Faculty Participation Award 1st Place – Crescent Lake School
Diversity Award 2nd Place- Weare Middle School
Diversity Award 1st Place – Lyme School
Inclusiveness Award 2nd Place – North Hampton School (Large School)
Inclusiveness Award 2nd Place – St. Thomas Aquinas School  (Small School)
Inclusiveness Award 1st Place – Lyme Middle School (Large School)
Inclusiveness Award 1st Place – Errol Consolidated School (Small School)
Finals Awards:
Middle School 2nd Place – Lyme School
Middle School 1st Place – Keene Middle School ($500 grant)
High School 2nd Place – Londonderry High School
High School 1st Place – Academy for Science and Design ($500 grant)
Governor's Award
The Lyme School ($2,000 grant)
The DOE and ISCEF also announced that the competition will continue for a second year, and we will do this again in 2018, where New Hampshire, the pioneer and first state to hold the competition will join many other states in a national competition.
About Oracle Academy
As Oracle's flagship philanthropic educational program, Oracle Academy advances computer science education globally to drive knowledge, innovation, skills development, and diversity in technology fields, offering a free and complete portfolio of software, curriculum, hosted technology, faculty trainings, support, and certification resources. Supporting more than 3.5 million students annually in 120 countries, the program works with public and private partners to provide the tools educators need to engage, inspire and prepare students to become innovators and leaders of the future. Through Oracle Academy, students receive hands-on experience with the latest technologies, helping to make them college and career ready in the era of big data, cloud computing, the Internet of Things, and beyond, please visit us at academy.oracle.com.
About ISCEF
ISCEF is a non-profit organization focused on resolving issues of accessibility for K-12 and Post-Secondary public institutions in the US that want to implement modern technological education to better their students. Working together with local and national corporate, industrial, and non-profit partners, ISCEF aims to assist schools in the funding of programs that will enable their students to discover STEM and CTE subjects in a more meaningful way. For more information visit www.iscefoundation.org
Trademarks
Oracle and Java are registered trademarks of Oracle and/or its affiliates.
POSTED BY
Graham Celine
| Dec, 21, 2017 |